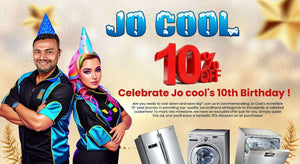 🎉🎈 CELEBRATE JO COOL'S 10TH BIRTHDAY 🎈🎉
Are you ready to cool down and save big? Join us in commemorating Jo Cool's incredible 10-year journey in providing top-quality secondhand whitegoods to thousands of satisfied customers! To mark this milestone, we have an exclusive offer just for you. Simply quote this ad, and you'll enjoy a fantastic 10% discount on all secondhand purchases!
At Jo Cool, we take immense pride in offering a wide range of premium secondhand whitegoods that perfectly blend style, functionality, and durability. Whether you're looking for a sleek refrigerator to keep your groceries fresh, an energy-efficient washing machine for cleaner clothes, or a powerful air conditioner to beat the summer heat, we've got you covered.
Why choose Jo Cool? Here are just a few reasons:
1️⃣ Exceptional Quality: Our products are crafted using the latest technology and highest-quality materials, ensuring long-lasting performance and reliability.
2️⃣ Innovative Designs: We understand the importance of aesthetics in your home. That's why our whitegoods are thoughtfully designed to seamlessly integrate with your decor, adding a touch of elegance to any space.
3️⃣ Energy Efficiency: We care about the environment and your energy bills. Our appliances are designed to be energy-efficient, helping you reduce your carbon footprint while saving you money.
4️⃣ Superior Customer Service: Our dedicated team of experts is here to assist you every step of the way. We provide personalized guidance, answer your questions, and offer reliable after-sales support.
But wait, there's more! As part of our birthday celebration, we're also introducing exciting new features in select products. Discover the latest advancements in cooling technology, smart home integration, and enhanced convenience, all packed into our new line of whitegoods.
So, don't miss out on this incredible opportunity to upgrade your home with top-notch appliances while enjoying an exclusive 10% discount. Visit our Jo Cool store today and let our friendly staff guide you through our extensive range of whitegoods.
Hurry, this special offer won't last forever! Quote this ad at the checkout to unlock your 10% discount and experience the Jo Cool difference. Join us as we celebrate our 10th birthday and make your home cooler, smarter, and more enjoyable than ever before!
🎉🎈 Jo Cool - Keeping it Cool for 10 Years 🎈🎉
These units come with a warranty for peace of mind and delivery can be arranged for a small fee depending on where you are located.

Contact us at:
Mobile: 0406 979 322
Landline: 08 6254 2001
Come check out our store!!
Mon-Fri 10am-6pm
Saturday 10am-4pm
Sunday 10am-4pm
Located at 2/177 Bannister Rd, Canning Vale WA 6155